Directed By:
Gilbert Adler

Starring:
Erika Eleniak, Dennis Miller, Angie Everhart, Corey Feldman, Chris Sarandon and John Kassir as the Crypt Keeper

Rated R
Genre: Comic Book Horror
Format Used: Netflix DVD
Contains: Graphic Language, Graphic Violence, Nudity, Sexual Content
Also Known As:
Bordello Of Blood

THE PLOT:
The vampire Lilith has returned and what does a vampire freshly reborn do after feeding on the morons who brought her back. Open a bordello in a mortuary of course. A woman hires a private detective to find her missing brother who was a "guest" of Lilith's secret Bordello and when he tracks Caleb to that point he's out to prove they exist and stop them once and for all.
ZEDD'S OPINION:
I love tales from The Crypt, I loved the TV show and Demon Knight, but this movie is no Demon Knight. The characters were poorly conceived and a bordello that kills all the clients is bad on getting repeat business. Plus, makes you wonder how they get the word out when nobody leaves alive? It has great effects and a sense of humor. But no way as good as the last movie and perhaps that's why it's been over ten years without a Crypt movie. 5 STARS.

VOLTRON'S OPINION:
I got to agree with you on this one. It wasn't that funny, in fact it was goofy, the first movie had a dark sense of humor and that funny streak turned into a cancer and killed this one. Plus the ending didn't make any sense and the dialog was over the top silly. To me they screwed up big time and I give it the CRAP-O-LANTERN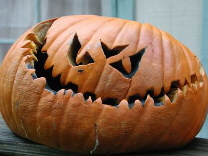 ON THE POSITIVE SIDE (+ HITS):
+ COOL EFFECTS (There are some cool effects.)
+ STORY (Vampire bordello, basic but workable.)
+ CAST (The cast does a great job.)
+ FUNNY (It does have it's laughs.)
ON THE NEGATIVE SIDE (- MISSES):
- GOOFY (It was too funny to the point of goofy and looses the heart of a TALES FROM THE CRYPT movie.)
- CHARACTERS (The characters are poorly written.)
- DIALOG (The dialog feels like it's ripped out of a bad film noir book.)
- ENDING (The climax doesn't make any sense.)
...AND FINALLY...
- FAN BASED (If you aren't big on the TALES FROM THE CRYPT series, then you might not like it. Or in this case, if you are a fan, you might not like it either.)